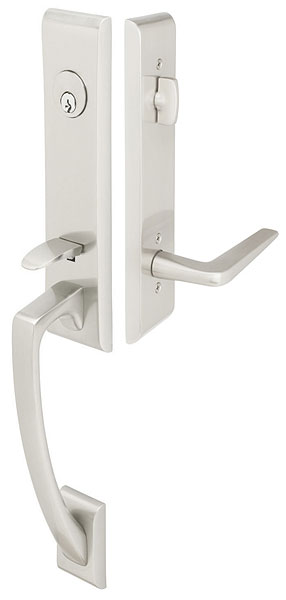 Solid brass medium sized tubular handle set has a slightly arched exterior lever on the exterior side of the handle set. The handle set offers you a streamlined escutcheon plate with soft rounded edges at the top and bottom of the escutcheon plates, the handle grip curves gently downward to a smaller rounded top and bottom base plate. This handle set has five variations in the plating that it can be manufactured in, eight interior knobs to choose from and, fourteen lever options are available for this contemporary handle set.

Shown in Satin Nickel Finish.


Available Finish Options: Flat Black, Satin Nickel, Oil Rubbed Bronze, Satin Brass, Polished Chrome

Available Knob Options: Octagon, Hampton, Round, Square, Bern, Bristol

Available Lever Options: Aireon, Argos, Athena, Basel, Geneva, Helios, Hercules, Hermes Brass Lever, Luzerne, Mercury, Posieden, Sion, Stuttgart Brass Lever, Triton
Technical Specification
Standard 2-1/8" Door Prep. Door Prep 5-1/2" Center-to-Center
Schlage C Keyway
Standard latch is for 2-3/8" backset. Specify 2-3/4" backset if required
Handing required if Lever Used on Inside or if Interconnect Device is Specified
Can be ordered with any Brass Knob or Lever for the inside trim
Sold as complete set. Includes Latch and Strike Plate
Interconnect Device available for additional charge
For pricing information, contact us.